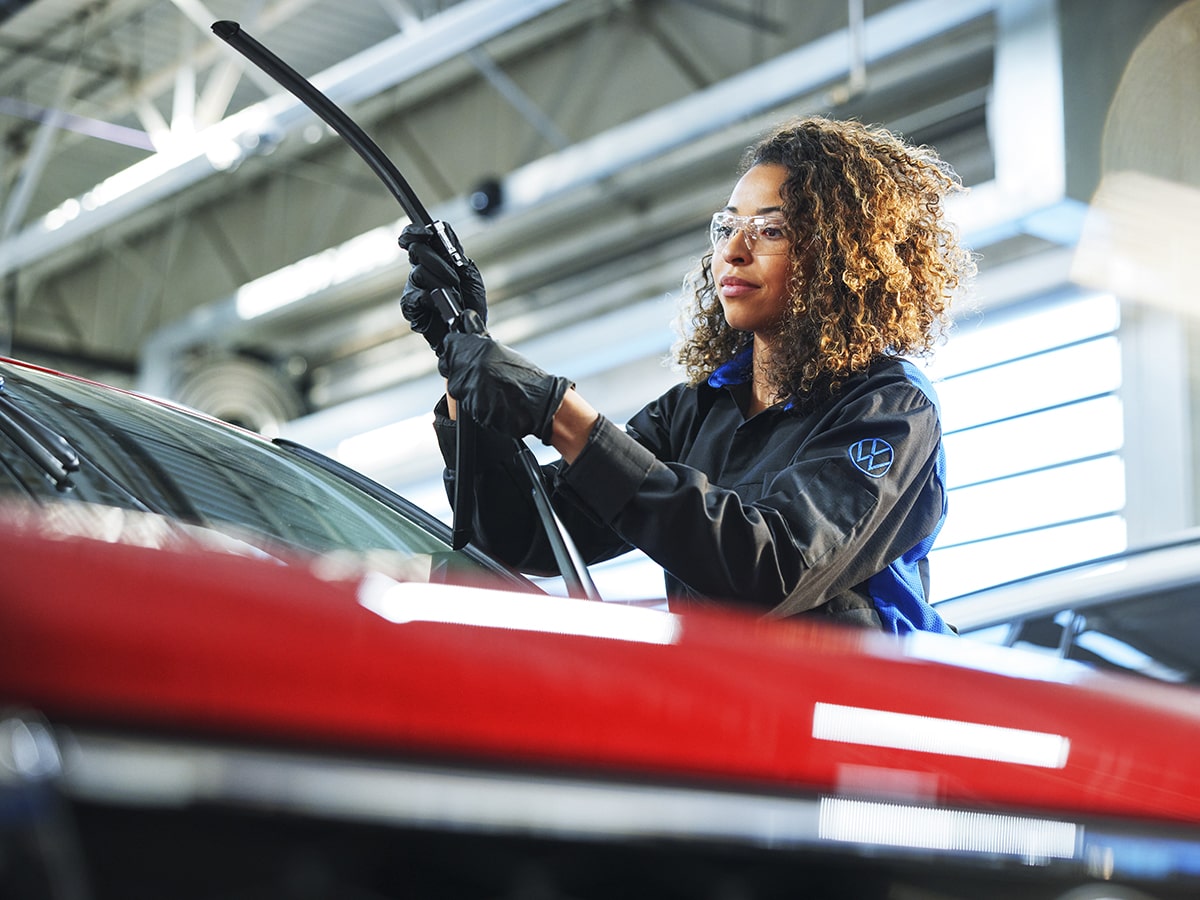 New Wiper Blades in Indianapolis, IN
There are many different
parts
of every vehicle that you need to have in order to drive your car safely. One important part that is necessary for any car owner is your wiper blades. When you have a good set of wiper blades, you will be able to clean your windshield efficiently and also remove any debris or rainwater that you are hit by while driving.
Most drivers will need to replace their wiper blades at least a couple of times per year.


Replacing Volkswagen Wiper Blades
The wiper blades of your car are very important as they help to clean your windshield. When you start to notice that they are not working effectively, or are leaving streaks on your windshield, it could be a sign that they need to be replaced. Even if they seem to be working fine, you should have them replaced at least once per year. When you have this service done, the technician will find a set of wiper blades that are right for your climate and car type and then have them installed.



Why You Need Your Wiper Blades Replaced
As soon as you believe that you need a new set of wiper blades, you should schedule a replacement as soon as you can. When you do replace your wiper blades on your car, it will ensure that you have good visibility again when driving. This will help to keep you safe when driving and will also ensure that you are in compliance with local regulations when it comes to cars and driving safety.
What Could Happen If Wiper Blade Replacement is Ignored
If it is time for you to replace your wiper blades and you delay the service, the visibility that you have when driving will keep getting worse. At first, you will notice some small streaks, but these will keep getting larger and larger as time goes by. Eventually, you may not be able to clean your windshield and it could be hard for you to drive safely in some conditions. 
Schedule Service at Tom Wood Volkswagen
Choosing the right set of wiper blades and having them installed is an important service to take seriously. For those that are in and around Indianapolis, a great service center to visit is Tom Wood Volkswagen. This service center will be able to replace your wiper blades and handle any other service that you need. Customers keep coming back here due to the great customer service that is provided as well as top vehicle care. Additionally, you can relax while the work is being done in the comfortable waiting room. 
---
Dealer Wallet Service Marketing & Fixed Ops SEO by
Service Hours
Monday

7:30 AM - 6:00 PM

Tuesday

7:30 AM - 6:00 PM

Wednesday

7:30 AM - 6:00 PM

Thursday

7:30 AM - 6:00 PM

Friday

7:30 AM - 6:00 PM

Saturday

8:00 AM - 4:00 PM

Sunday

Closed